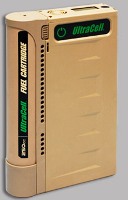 Do you need guaranteeded surveillance no matter what the conditions are? Do you need independent operation for 30 days without needing to change batteries or check on the energy source? UltraCell fuel cells can give you that operational freedom.
UltraCell products are light on weight, heavy on power™.
From the ultra-compact XX25 to our extended run-time fuel tank options, it's easy to find the product to suit your needs. UltraCell's solutions are suitable for demanding environments in a variety of applications.
XX25: Mobile Power for Mobile Applications ( 25 Watts )

NEW!! XX55: Extreme Mobile Power for Demanding Applications ( 55 Watts )

Extended Run-time Options: Continuous Power for Longer Missions

Fuel Cell Accessories: Make it easy to connect UltraCell fuel cells to your device